A conservation success story
The preliminary report from our latest tern monitoring study reveals positive findings. Our sister island Nosy Manampaho and its surrounding islets hold the largest Sooty tern colony in Madagascar. Every year from around May to October, thousands upon thousands of nesting seabirds flock to its protected shores – and the numbers are growing.
The 2021 count by Anasvaler Mbelomanana now numbers 62,500 pairs of Sooty terns (125'000 individuals), almost triple that reported in the first study conducted by Le Corre & Bemanaja which estimated 21,800 pairs in 2008, and a substantial 33.5% increase since the most recent study in which 46,800 pairs were recorded in 2018.
Sooty terns are a unique species of seabird, in that they lack oil in their feathers that almost all other seabirds have, meaning that they are not neutrally buoyant. So, if they land in the water, they don't float and can drown. Because of this, when they go out to sea for 3-10 years, they stay in flight the entire time. They sleep in 2-3 second intervals while on the wing, which it makes it a special event to see them on land and not in flight.
However, it is not just the Sooty tern that you will find on Nosy Manampaho, the 2021 study documented 7 species including the Great Crested tern, Roseate tern, Caspian tern, Brown Noddy, Lesser Noddy and White-tailed Tropicbird. The latter never-before documented on the island, and just two weeks ago we received yet more good news, with another first sighting of a Red-tailed Tropicbird.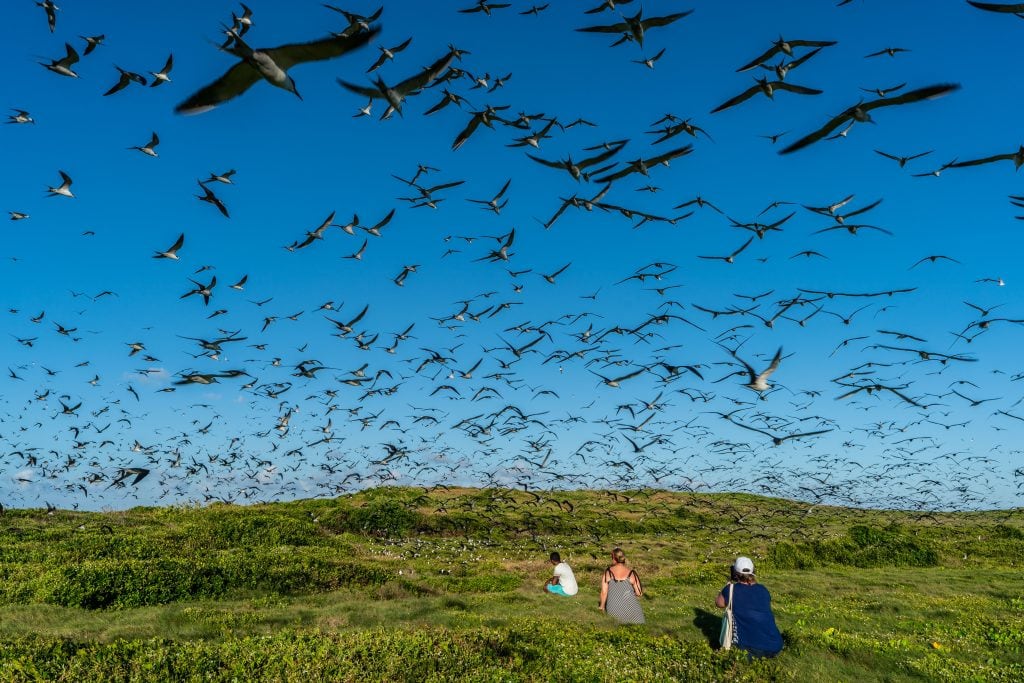 The research findings reflect the positive impact that eco-tourism can have on an area. Nosy Manampaho was once heavily harvested for eggs, which were sold and eaten as a source of protein. It was well-known as an important seabird colony, so much so that it became regulated by the community in 1997 when seasonal wardens and authorised egg collectors were settled on the island. While harvesting was limited to eggs unlike other areas in Madagascar (leaving birds unharmed) and numbers were regulated allowing some chicks to be reared, the 2008 study suggested that the harvest rate was beyond the sustainable threshold with up to 5000 eggs taken per day.
Subsequently Fanamby, our partners and regional management of conservation, declared the island a protected area due to the presence of terns, but also due to its endangered sea turtle nesting areas, with access restricted to eco-tourism activity from 2014. Miavana through the support of the Time + Tide Foundation works with our partners, local communities, and local and international researchers, to protect these precious areas and their wildlife, safeguarding them for generations to come.
Sincere thanks to Anasvaler Mbelomanana for his dedicated fieldwork over 2018 and 2021, who will be doing his last surveys in 2023 and finishing his PhD with a full report.